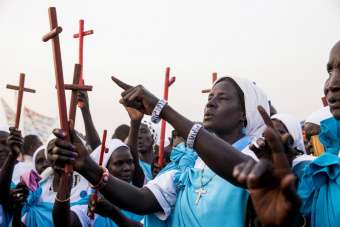 Want Pope Francis to visit South Sudan? Work for peace, bishops say
The news that Pope Francis will not be able to visit South Sudan this year prompted the nation's bishops to voice reassurances that a future visit is possible, and ask for a renewed commitment to peace.
Eduardo Hiiboro Kussala, Bishop of the Catholic Diocese of Tombura-Yambio and President of the Sudan Catholic Bishops' Conference, is calling on people in the country to work for peace. He suggested armed conflict in the nation, including lack of security, were obstacles to a papal visit.
"Pope Francis is very particularly (concerned) about the welfare of the suffering people in the world, and so is he for South Sudan," said Bishop Kussala. "Pope Francis continues to remind us of the costs of war, particularly on the powerless and defenseless, and urge us toward the imperative of peace."
The bishops said a visit from Pope Francis could have "uplifted the faith" of Christians and other believers and raise expectations of peace. His presence would also console the grieving and heal the broken-hearted. The bishops also noted his decision not to visit in 2017 should be received "in respect and prayer."