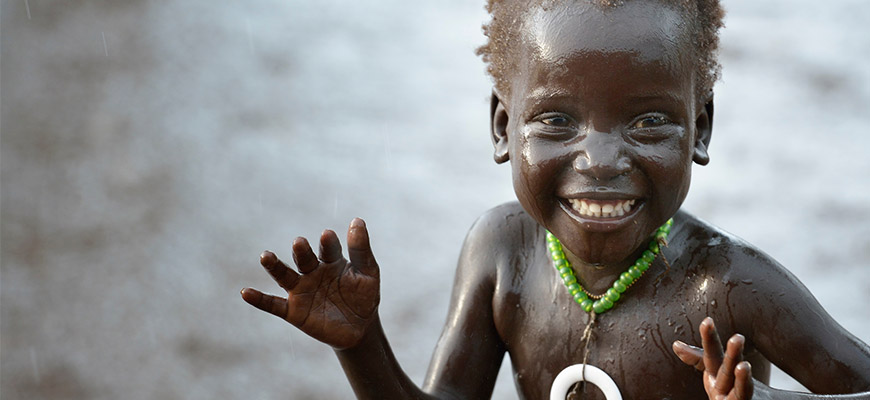 What does Sudan Relief Fund do?
Sudan Relief Fund was established in 1998 to bring food, clothing, shelter, clean water, and medical help to suffering people in South Sudan and the Nuba Mountains of Sudan. We've made very real progress over the years in some of the most difficult circumstances imaginable. Besides responding to physical needs, we bring hope to desperate people by showing each individual they are a loved and valued child of God.
Can you explain the humanitarian crisis in South Sudan?
After years of intense conflict with Sudan, South Sudan achieved independence in 2011. However, independence has not brought peace. In the last twelve years, South Sudan has been decimated by violent wars, internal conflict, famine, and natural disasters. The majority of its people live in extreme poverty. There is little infrastructure and no government assistance to help from within. There is scant access to healthcare, low literacy rates, a large refugee and orphan population, rampant disease like typhoid and malaria, widespread food insecurity, and nearly half the people are without clean water. Despite the challenges, Sudan Relief Fund is transforming lives one community at a time by addressing both urgent and long-term needs to build a self-sustaining society in South Sudan.
What has Sudan Relief Fund accomplished?
We provide emergency aid and disaster relief for refugees displaced by violence. But beyond the immediate, we also support programs in Sudan and South Sudan that lay the foundation for successful long-term communities. We build and support hospitals, orphanages, schools, churches, clean water projects, agricultural initiatives, trauma rehabilitation centers, vocational training, and programs to protect women and girls.
How will my donation make an impact?
All of our work is funded by generous partners and compassionate donors. You can target your gift to a specific cause or simply give to the area of greatest need. Visit our Gift Catalog to learn more. We encourage you to read our stories of Lives Saved and look through our blogs where you'll find story after story of lives turned around from desperation to hope. Your giving helps transform lives and communities.
Is Sudan Relief Fund an accredited charitable organization?
Since 1998, Sudan Relief Fund has been a designated 501(c)(3) not-for-profit organization. We are recognized by numerous accreditation organizations and affiliations, including Charity Navigator, Platinum Transparency 2023, Google Nonprofit Certified, and Facebook Nonprofit Approved. Our Annual Reports reflect full transparency of Sudan Relief Fund's work and can be viewed publicly every year.
Are my gifts tax deductible?
Yes. Because Sudan Relief Fund is a 501(c)(3) not-for-profit organization, your personal or corporate contribution is deductible to the full extent of the law. Our IRS number is 52-2148976.
What methods are available for making a contribution?
You can give a one-time or recurring gift online through credit card, e-check, or PayPal. Go to our Donation Page for more information or to share your gift. You can also mail a check to:
Sudan Relief Fund
3220 N Street NW, Suite 302
Washington, DC 20007
USA
Please make checks payable to "Sudan Relief Fund." We'll mail you a letter back that includes your donation information for your tax records. If you have any questions about making a gift, or would like to inquire about other giving options, please contact Matt Smith, Vice President of Strategic Relationships and Development, at msmith@sudanreliefund.com. See more on our "Ways to Give" page.
Does Sudan Relief Fund have Corporate Match?
Yes. You may be able to double the amount of your gift without giving an additional dollar of your own. Thousands of companies participate in Corporate Match programs. This means they match dollar-for-dollar the amount their employees donate to charitable organizations. Imagine creating twice the impact of your contribution! Go here to learn more about the Corporate Match program.
Can I sponsor an orphanage?
We have a sponsorship opportunity available for St. Bakhita Orphanage in Nzara, South Sudan, directed by the courageous Sister Bianca Bii, who for decades has cared for children who have lost their families due to war, famine, or disease. Sponsor funds are absolutely vital in providing food, shelter, clothing, medicine, and education for these children, many who've endured incredible trauma and loss. As a sponsor, you will receive special updates about the orphanage, and you can experience the joy of having a personal connection and impact in their lives. Become a sponsor here.
How can my church get involved?
Churches are a powerful engine to support positive change for suffering people. If you would like to hold a fundraiser at your church or share information about Sudan Relief Fund in your small group, we have the resources for you to do so. Please reach out to msmith@sudanreliefund.com. Thank you for your compassion and initiative to help struggling people in South Sudan.
Are there other ways I can support Sudan Relief Fund's mission without a donation?
Would you like to pray for us? You can sign up for our email prayer group. Each week you'll receive an email sharing important needs to pray about. You'll join a faith community around the globe praying to bring hope and help to suffering people in this forgotten part of the world. You can find out more about our prayer group here. You can also follow us on Facebook and share the mission of Sudan Relief Fund with friends and family.