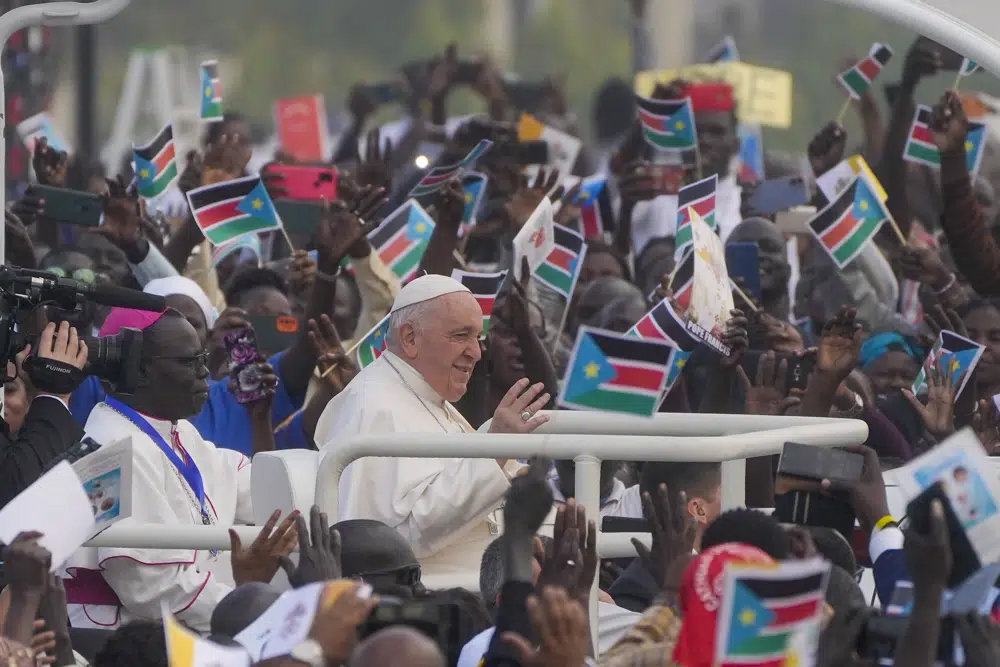 Pope Francis Admonishes Leaders to "Leave War Behind and Let a Time of Peace Dawn" in Historic Visit to South Sudan
Throngs of people from the nation of South Sudan came together to celebrate the long awaited arrival of Pope Francis, who visited the capital city of Juba February 3rd through 5th. Cheering crowds amid colorful murals lined the streets that were newly paved in honor of the occasion, waving flags and shouting jubilant greetings as the Holy See came to encourage the people of this war-torn and impoverished country.
The Pope wasted no time emphasizing his message of peace, urging leaders at the Presidential Palace on Friday that there be no more destruction, and to leave the time of war behind in order that a time of peace may dawn.
In his pointed message, Pope Francis boldly expressed that "History itself will remember you, if you work for the benefit of these people that you have been called to serve. Future generations will either venerate your name or cancel their memory based on what you do now."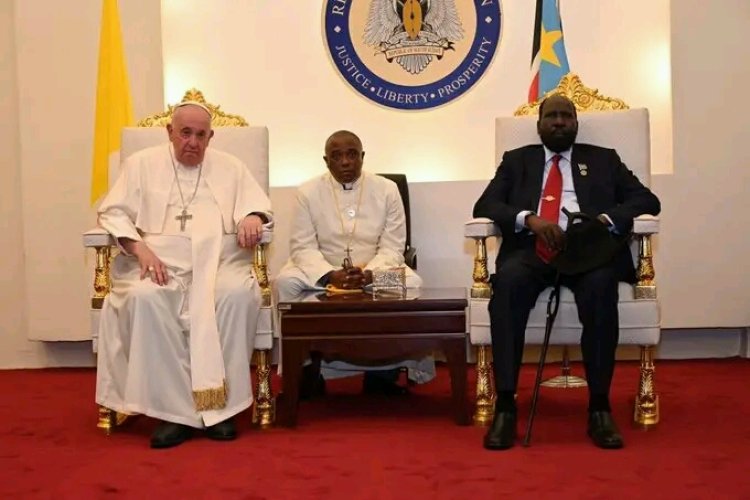 Directly addressing the president and vice president, Pope Francis admonished, "No more bloodshed, no more conflicts, no more violence and mutual recriminations about who is responsible for it, no more leaving your people athirst for peace." He reminded the governing body the purpose of power is to serve the community and to place themselves at the service of others.
"They need fathers, not overlords; they need steady steps towards development, not constant collapses," Pope Francis rebuked. He added his hope that the painful steps the young nation has endured would lead to "a peaceful maturity."
The Pope's visit was also purposed to bring hope and encouragement to the people of South Sudan, where approximately six million of the country's ten million people are Catholic.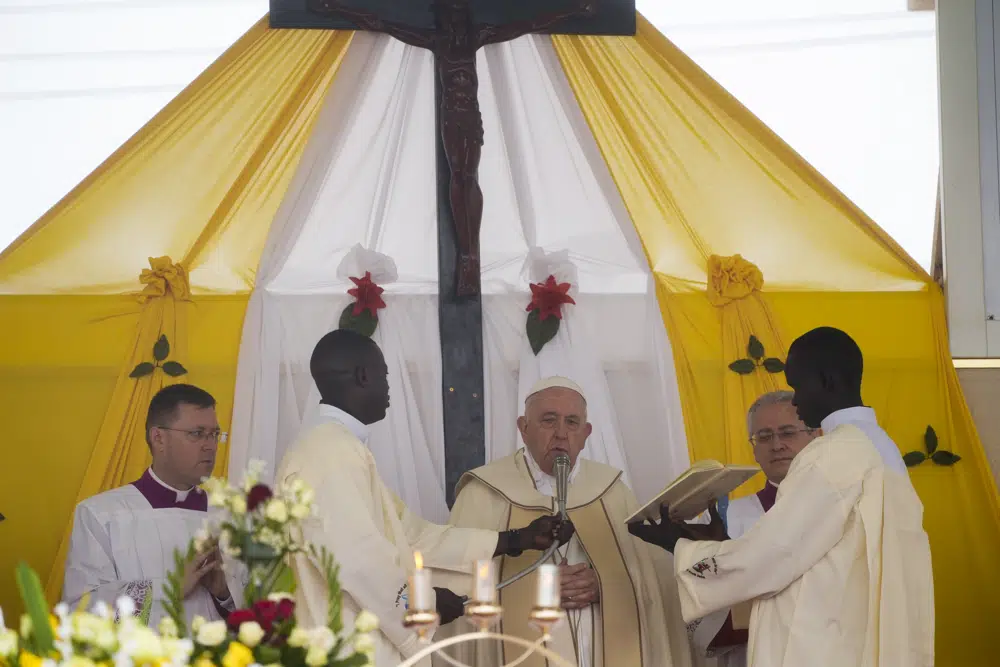 His tour included a visit to St. Teresa's Cathedral in Juba on Saturday, where he greeted hundreds of women waving signs calling for hope and peace. A group of girls attending with Sister Orla Treacy, Principal of the Loreto School for Girls in Rumbek, were among those to receive the Pope's message. The school is supported by Sudan Relief Fund, and serves as a pioneering institution helping girls become educated in a country still reluctant to permit them.
In a nation where, according to UNICEF, approximately 75 percent of girls don't attend school, graduates from Loreto Secondary School going on to higher education are blazing a new path for women in the country.
"A 22 year-old girl going to university is like a taboo for many of the society…but it is changing and the young women are now coming with a vision for what they also want for their country," Sister Orla said.
On the final day of what Pope Francis termed his "Pilgrimage of Peace," the Holy See concluded with his strong message of reconciliation, calling for the laying down of weapons and forgiveness for one another.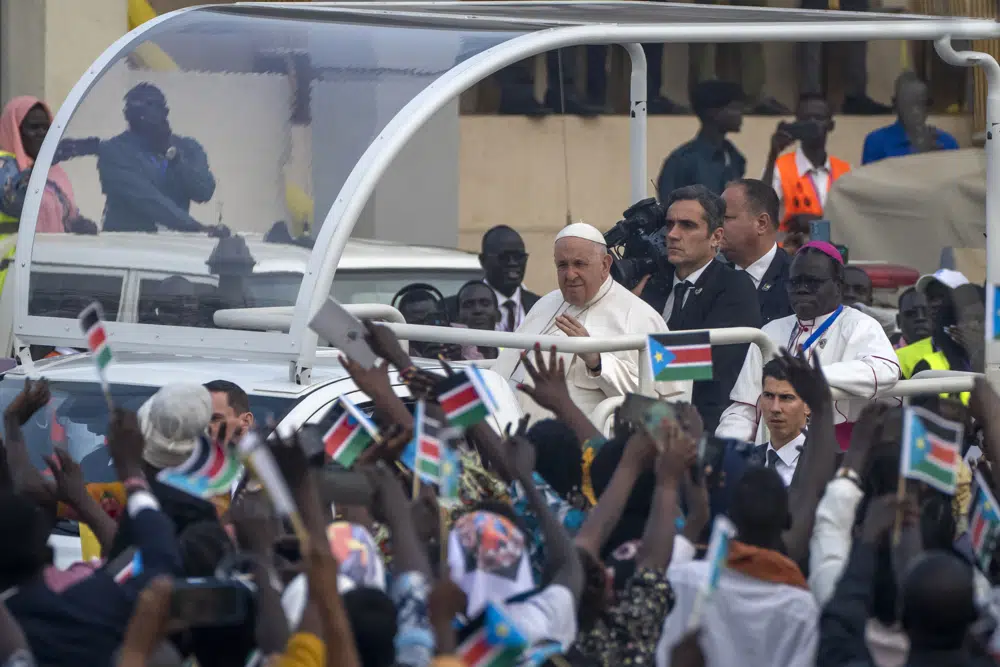 Presiding over a Mass before an estimated crowd of 100,000 people at the nation's monument for independence – a group which also contained the country's leadership – he beseeched the people, "Even if our hearts bleed for the wrongs we have suffered, let us refuse, once and for all, to repay evil with evil. Let us accept one another and love one another with sincerity and generosity, as God loves us."
A message echoing Pope Francis' call for peace was posted by a group of students at Solidarity Teacher's Training College, a Sudan Relief Fund supported facility, in honor of the historic event. Reflecting the innate hope the people continue to grasp for the future of their country, the students sang a song of unity with a simple, but profound message:
"We are one though we are many. From all tribes of South Sudan we come. We share a dream and sing with one voice: I am, you are, we are from South Sudan."