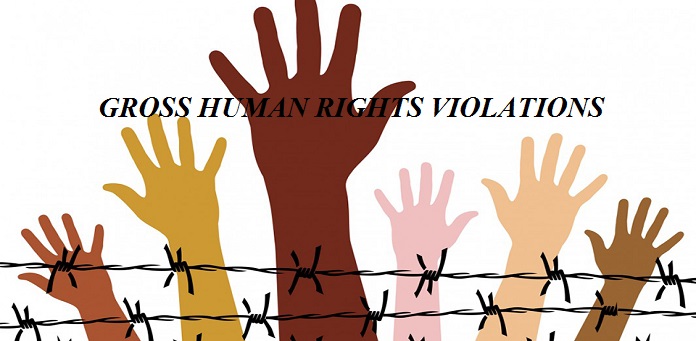 GROSS HUMAN RIGHTS ABUSES SEEN IN S. SUDAN: REPORT
Gross Human Rights Abuses
---
NAIROBI, Kenya — Horrific, ethnically motivated attacks of physical and sexual violence launched in South Sudan by warring parties constitute war crimes and crimes against humanity, Amnesty International said Thursday, while a new U.N. report said more than 300 people men from one ethnic group were slaughtered in one incident.
U.N. Secretary-General Ban Ki-moon said during a visit to South Sudan this week that the country has seen serious human rights violations. The U.N. report said that gross violations of human rights and international humanitarian law have been committed.
Much of the violence has been ethnic in nature and carried out by troops loyal to President Salva Kiir, an ethnic Dinka, and rebels loyal to former Vice President Riek Machar, an ethnic Nuer. The two men are scheduled to meet for face-to-face talks in Ethiopia on Friday. If the meeting happens, it would represent the biggest breakthrough since fighting broke out in December.
Thousands of people have been killed and 1.3 million have fled their homes. Ban had been pressing for a monthlong cease-fire beginning Wednesday so that residents could return home and plant crops, but South Sudan's military spokesman, Col. Philip Aguer, said Thursday that he had no information on a cease-fire being ordered.
Aid groups fear that if residents don't plant crops this month, the country could face mass hunger or famine.
The U.N. report documents the killings of "at least 300 Nuer men" in a neighborhood of the capital, Juba, the day after the violence broke out. The report said that bodies from many attacks were taken to unknown disposal sites.
Nuers across Juba were targeted by armed attackers wearing military and police uniforms, the U.N. report said.
The U.N. representative in South Sudan, Hilde F. Johnson, said accountability for the crimes is critical to ending the legacy of impunity in South Sudan and preventing similar atrocities in the future.
The Amnesty report documents the rapes of children and the shooting deaths of the elderly while lying in hospital beds. In one horrific act of violence, the report documents the rape of a 10-year-old girl by 10 men.
"Forces on both sides have shown total disregard for the most fundamental principles of international human rights and humanitarian law. Those up and down the chain of command on both sides of the conflict who are responsible for perpetrating, ordering or acquiescing to such grave abuses, some which constitute war crimes and crimes against humanity, must be held accountable," said Michelle Kagari, Amnesty's deputy director for Africa.
Associated Press reporters saw the aftermath of South Sudan's violence in the contested city of Malakal in December and February in which dozens of houses were burned to the ground, patients were shot while lying in hospital beds, and corpses littered the streets.
The Amnesty report documents how the bodies of 18 women were found outside St. Andrew's Catholic Cathedral in the town of Bor in January. Six of the women were members of the clergy, the report said. All were ethnic Dinka.
A woman told Amnesty that her 20-year-old son was taken from her home in Juba, tied up and shot. She said she then fled to a neighbor's house where she and nine other women were gang raped by soldiers.
By Associated Press
http://www.washingtonpost.com/world/africa/gross-human-rights-abuses-seen-in-s-sudan-report/2014/05/08/69efbe4a-d696-11e3-8f7d-7786660fff7c_story.html