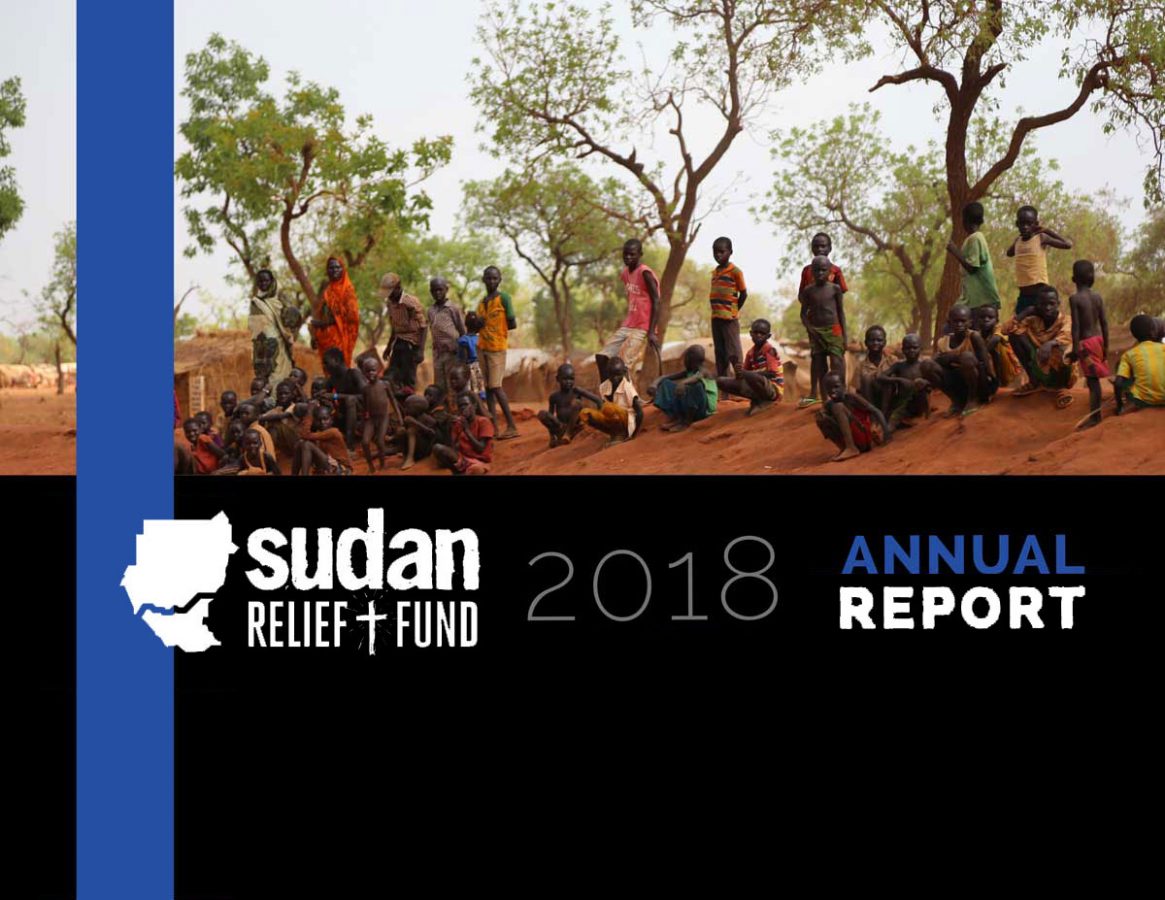 About
Sudan Relief Fund (SRF) is a U.S.-based 501(c)(3) nonprofit that serves and strengthens the people of South Sudan by providing food, water, clothing, and medical aid, and by developing institutions of civil society to promote peace and stability for South Sudan's future generations.
SRF envisions a peaceful and prosperous South Sudan with a strong infrastructure and the ability to meet the most basic human needs of its citizens. Currently, four million people are displaced from South Sudan. Our mission is to return South Sudanese refugees to a country safe from systemic violence with the opportunity to become a stable nation. Our vision is one of a self-sufficient country with thriving schools, hospitals, governing bodies, and programs that empower the South Sudanese people to maintain their independence and peace. Ultimately, we work towards developing a country able to achieve peace, prosperity, and stability in both the short and the long term.
For over two decades, Sudan Relief Fund has united a community of philanthropic partners like you to give generously and thereby make a transformational difference in thousands of lives in South Sudan and the surrounding region.
President's Message
Dear Friends in Christ,
Thank you for your support for Sudan Relief Fund. Over the past year, you have enabled Sudan Relief Fund to provide life-saving medical care for pregnant women and newborns, train hundreds of teachers and nurses, reach thousands of refugees with emergency aid, and ensure that thousands more receive critical medical care. In addition, you and I invested $3.7 million in dozens of different projects designed to meet the needs of those many South Sudanese who lack access to basic services.
Though our vision is of a peaceful, prosperous South Sudan, there is still much work to be done. Despite the recently revitalized peace process, more than 7 million people are still in desperate need of aid this year. The situation in South Sudan remains a serious humanitarian crisis.
Our focus remains squarely on providing important emergency relief and aid to those suffering in South Sudan and the surrounding region. Despite the ongoing conflict, we continue to establish schools, churches, hospitals, and other institutions of civil society. I am deeply grateful to you, as is Bishop Kussala in South Sudan, for partnering with us to accomplish these objectives.
As you are one of Sudan Relief Fund's most generous benefactors, I wanted to send you this annual report to highlight what your partnership has helped make possible. Life in South Sudan remains very tenuous, and the needs are unimaginable. However, I hope this report gives you hope and a renewed enthusiasm to give, knowing that every dollar you commit goes to support programs that serve the South Sudanese people.
I am so grateful for your unwavering support. Without you, our work and the work of our partners, such as Dr. Tom Catena and Bishop Kussala, would not be possible. I look forward to continuing to work together to meet the needs of those suffering in South Sudan.
Yours in Faith,

Neil Corkery
Program Spotlights
Sudan Relief Fund is active in the lives of thousands of people in South Sudan. These spotlights on refugee aid, healthcare, and education showcase just a few of the highlights from 2018.
Refugee Aid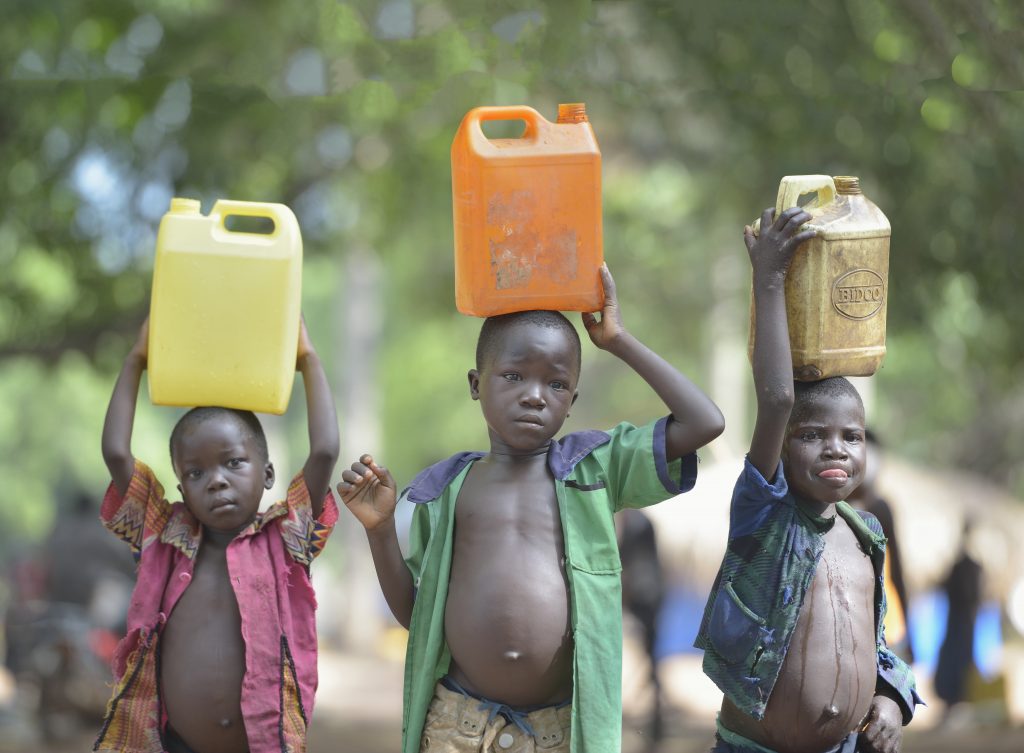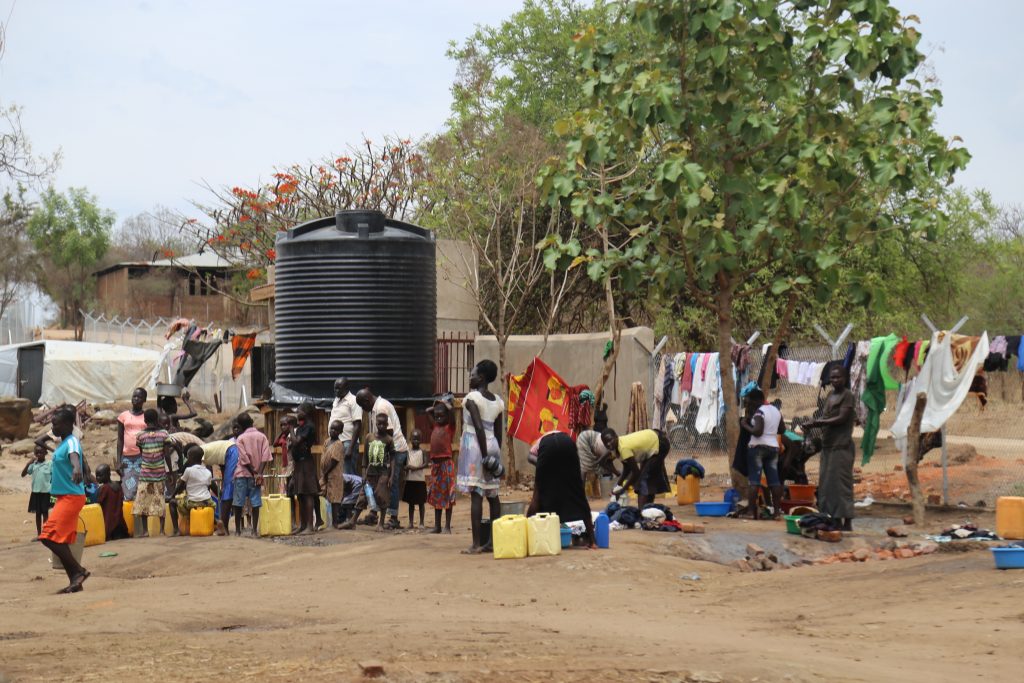 In 2018, Sudan Relief Fund's supporters sent nearly $1 million in emergency humanitarian funding to the region. Over the year, SRF worked with local partners to deliver food, water, supplies, and shelter to families in South Sudan and refugee camps across the border in Uganda.
As we move into 2019, violence continues to threaten the region. Sudan Relief Fund remains dedicated to providing support for those people who have fled to nearby refugee camps to escape the region's instability. Altogether, 4.5 million South Sudanese people have been forcibly displaced since the onset of civil war five years ago. By working with our partners on the ground, particularly the various Dioceses, Samaritan's Purse, and Catholic Medical Mission Board, we provide life-saving supplies and food to support these refugees.
Across South Sudan, internally-displaced people experience food insecurity, violence, and incredible medical challenges. Coordinating with local partners, SRF works across the country to bring emergency food aid to refugees in every part of the region. One such project is the Rimenze camp in the Tombura-Yambio diocese. In addition to meeting the basic sanitary and sustenance needs of Rimenze's refugees, Sudan Relief Fund supports the local school, which serves over 2,000 primary age children.
Sudan Relief Fund assisted with the construction of 1,030 household latrines in the Bidi Bidi refugee camp as part of an extensive water, sanitation, and hygiene initiative. Along with the latrines, SRF helped provide training on sanitation and hygiene. Altogether, SRF helped provide over 5,000 people with improved access to sanitation facilities.
Those projects are just a few examples of the work SRF is doing to provide essential refugee aid for the South Sudanese. In 2018, SRF also funded the work of missionary Noeleen Loughran, who provides medical support to over 400 refugees daily in the Bidi Bidi camp in Uganda, and supported a critical agriculture project for refugees at the Comboni Mission 15 miles east of the camp. In the Wau Region of South Sudan, SRF funded $120,000 of emergency relief supplies for internally-displaced people throughout the region. Not only did this project provide food, it also provided thousands of refugee kits, which contain essentials such as blankets, soap, and mosquito nets.
Health and Medicine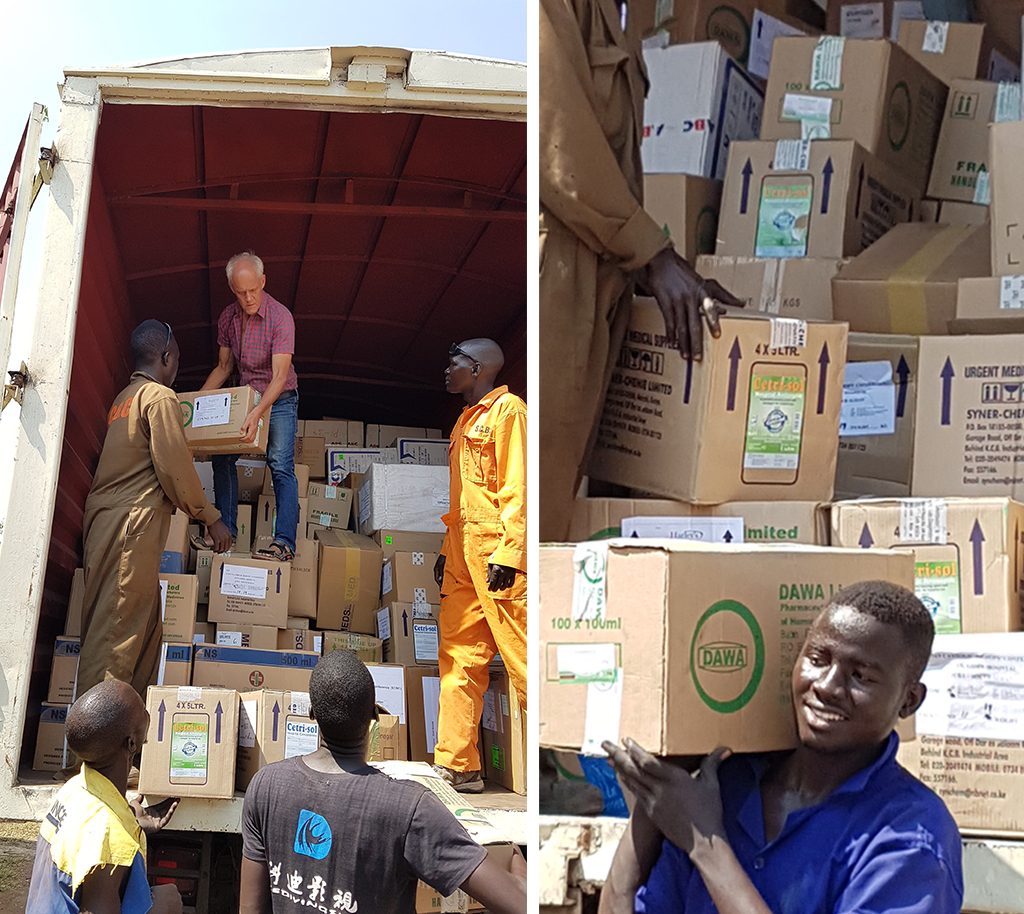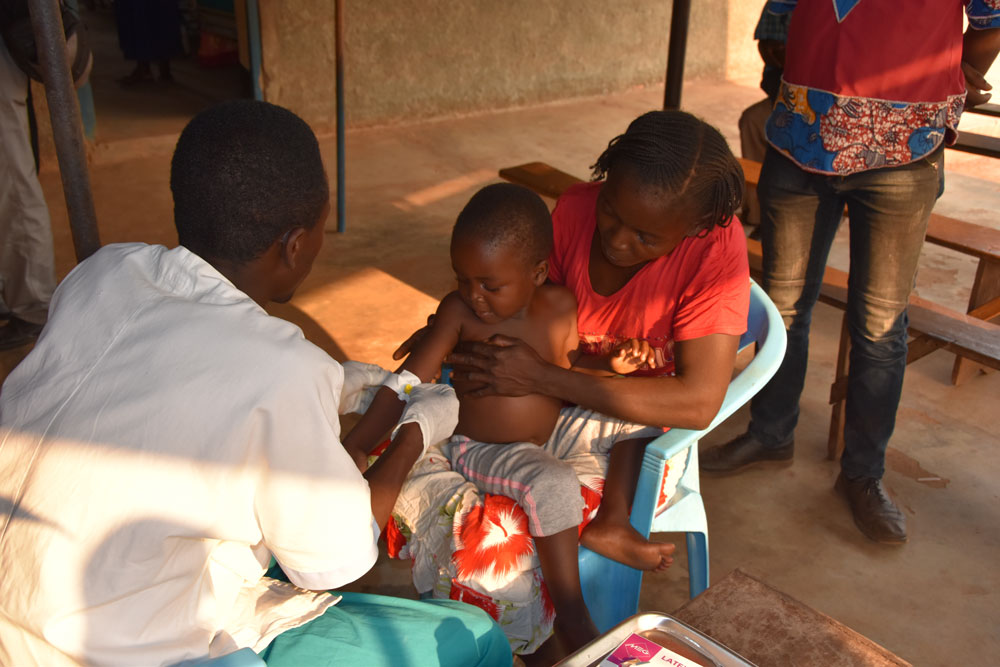 Sudan Relief Fund continues to fund programs that provide essential healthcare for the South Sudanese. The government in South Sudan remains unable to provide even basic medical services to its people. In fact, one primary health center serves an average of 50,000 people. Less than half of South Sudan's nutrition treatment centers have drinkable water, and maternal mortality rates remain the highest in the world.
In 2018, SRF delivered over $1 million to health and medical efforts throughout South Sudan. SRF funded new specialty vehicles, Unimog trucks, to bring medical supplies to the Nuba Mountains (where roads are typically impassable due to the rains), to expand the children and motherhood program in the Yambio Diocese, and to open a new surgery ward at St. Teresa Hospital in Nzara. This surgery ward will not only receive an operating theater but also a blood bank and maternity ward. In addition, SRF is funding St. Theresa Hospital's new psychiatrics program for the reintegration of child soldiers into civilian life—a program we feel is vitally important to change the cycle of violence in South Sudan and provide a second chance to children.
Sudan Relief Fund continues to support hospitals and medical clinics in the Nuba Mountains, a war-torn region of more than 750,000 people. SRF funds all the medicine administered by Dr. Tom Catena, who treats 400–500 patients per day suffering from war wounds, dysentery, malaria, cholera, and even leprosy. In addition, SRF provides ongoing support for the work of Dr. Ahmed Zacharia. After Dr. Ahmed completed his training with Dr. Tom Catena, they agreed the vast region would be better served if they split up to work in separate locations. Just as SRF supported Dr. Tom Catena when the Mother of Mercy hospital broke ground, we are proud to help Dr. Ahmed in his pursuit of a similar dream. These two men have devoted their lives to bringing better care to those in desperate need of medical aid. Their work, and the work of many others, is possible solely because of the resources provided by SRF's partners.
Education

Perhaps the most hopeful vision for South Sudan can be seen on the faces of students at the schools that we support. For instance, with your help we funded major expansion and built four new classrooms St. Mary's Primary School in the Tombura- Yambio Catholic Diocese, a school where more than 900 students were enrolled by the end of 2017. As enrollment continues to increase, we have already pledged to build two more classrooms in 2018.
Additionally, SRF continued funding the Bishop Abangite College of Science and Technology High School, which remains the only Catholic secondary school in Yambio and provides an education to over 1,000 students. At this school, SRF recently helped complete the construction of two new classrooms and provided critical funding already in 2018 to provide desks and other supplies for the new addition.
SRF continues to support Loreta Girls Primary and Secondary schools, which just celebrated their tenth year. This school, which your support has made possible, provides a safe haven for girls so they can receive an education. Likewise, our support for orphanages and schools across the region help all children in need to receive not just an education, but shelter, and other basic necessities, which often includes food programs so children can remain in school.
Finally, your investment extends beyond primary and secondary levels. In fact, SRF's aid has been instrumental in sustaining the Catholic University of South Sudan—the one university operating in the country. Just this last year, the University held its fifth graduation ceremony in Juba. A total of 253 students graduated with degrees in Economics and Business Administration, Education and Agriculture.
Partner Spotlight
Dr. Tom Catena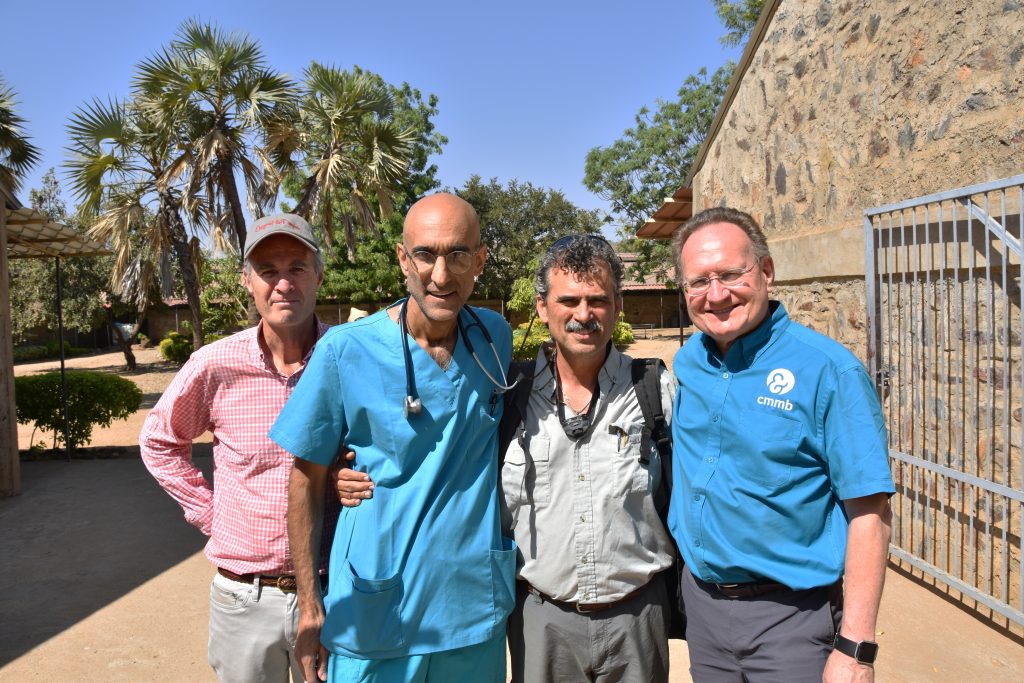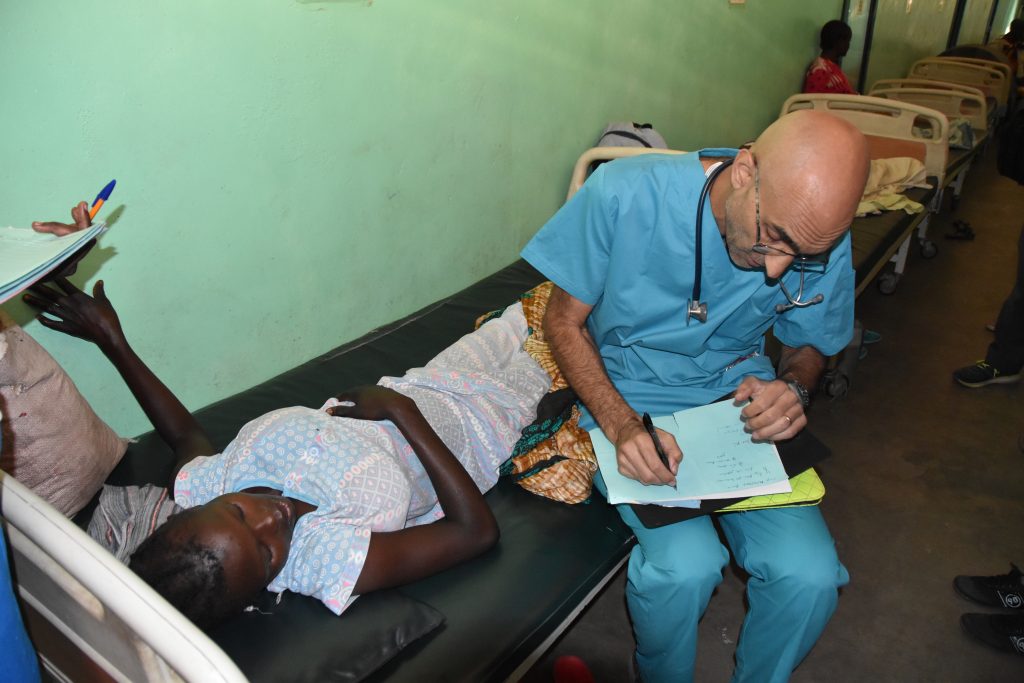 In 2018, SRF continued to support the work of Dr. Tom Catena in the Nuba Mountain region. Since 2007, Dr. Catena, a Catholic missionary from Amsterdam, New York, has been the only surgeon permanently based in Sudan's Nuba Mountains, which has a population of more than half a million people.
Dr. Catena attended Brown University, where he earned a degree in Mechanical Engineering, but he soon felt called to missionary work. He decided to pursue a medical career and attended Duke University School of Medicine on a U.S. Navy scholarship. After completing his Nay commitment, he began missionary work in Africa. Dr. Catena selflessly sacrificed a comfortable life in the U.S. to tend to the sick, starving, and severely wounded in South Sudan.
Dr. Catena volunteered at St. Mary's Hospital in Nairobi for six years before establishing the Mother of Mercy Hospital, where he currently labors day and night to help heal the sick and the wounded victims of war. Since the inception of the hospital, SRF has partnered with Dr. Catena to ensure quality care of refugees. Dr. Catena treats up to 400 patients in a day and is on call 24 hours a day, 7 days a week. Patients have been known to walk for 7 days to receive treatment from him; they typically visit the hospital with injuries from bombing attacks and ailments varying from bone fractures to malnourishment and malaria. Dr. Catena estimates he performs more than a thousand operations a year, and Sudan Relief Fund is privileged to partner with him and to provide ongoing funding for his medical ministry.
Noeleen Loughran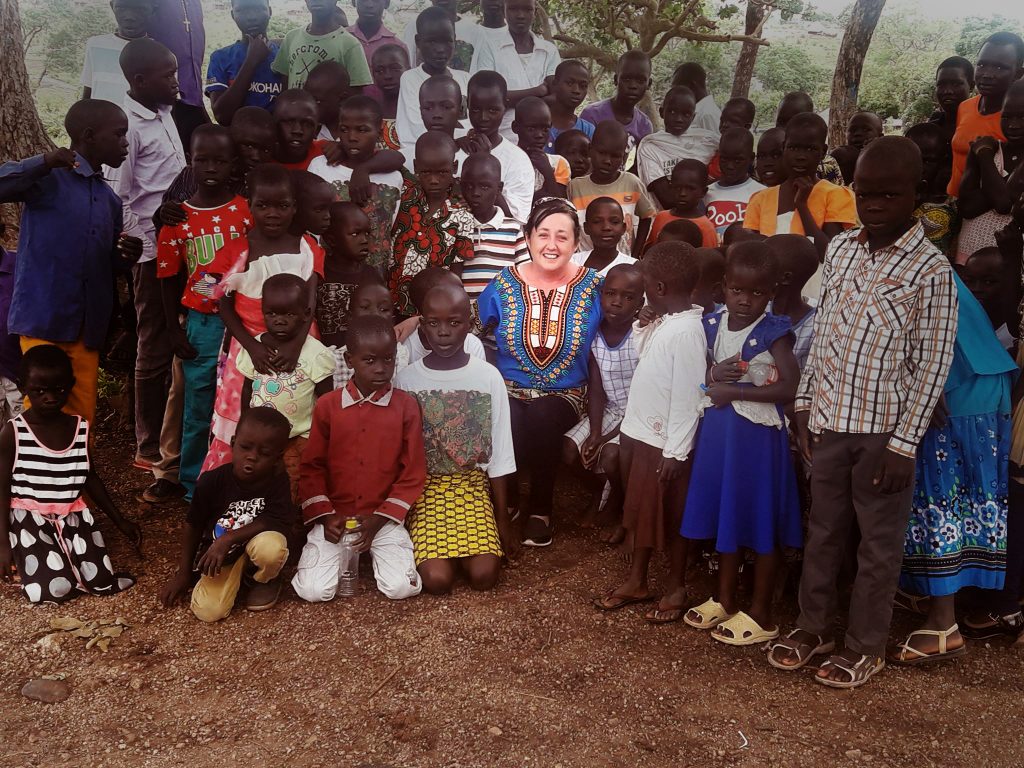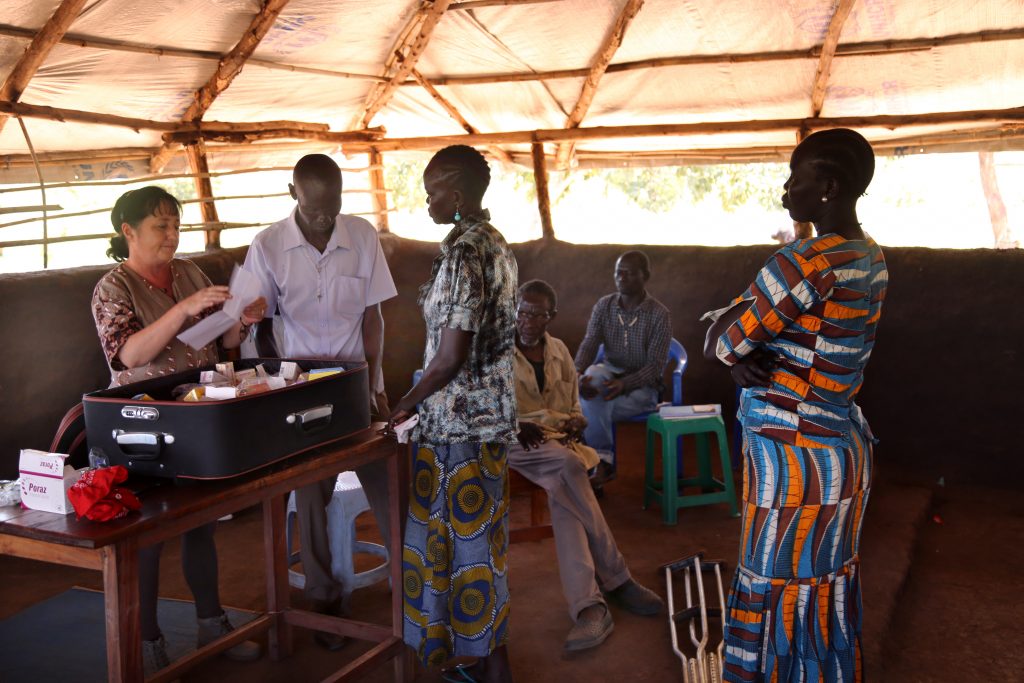 Noeleen Loughran, a recent Sudan Relief Fund partner, is a missionary nurse from Ireland. As a young girl, she hoped to be a missionary, but the circumstances never permitted it. Then, one day in 2013, Noeleen sold everything she had to move to Africa to care for those who were suffering. She has served orphans in Kenya, farmed in Uganda, and now works in Bidi Bidi. Located on the border of South Sudan, Bidi Bidi is the world's largest refugee camp. It houses 285,000 people, all of whom have fled South Sudan's violence. A majority of residents are teenagers and children.
With unbelievable dedication, Noeleen makes daily rounds to the sick and homebound first. When needed, she arranges for their transportation to local hospitals. She uses the small chapels found throughout the camp as makeshift clinics and brings with her a suitcase full of medicine, which she uses to treat more than 400 people a day. As Noeleen makes her way through the Bidi Bidi camp, she is never without her warm smile and suitcase. To thousands, hers has become a suitcase of hope.
Without Noeleen's tireless efforts, nursing skills, and the medicine she provides, many people would die. Those who come to her are frightened, sick, malnourished, traumatized, and tearful. Yet Noeleen's medical assistance, emotional support, and steadfast commitment to South Sudanese people provide hope. Sudan Relief Fund is proud to be the primary funder for Noeleen's incredible work.
Financials
Due to the generous contributions of donors like you, Sudan Relief Fund not only continued supporting its core projects and existing commitments, but also expanded its partnerships to meet even more extraordinary needs.
Through our partners on the ground in South Sudan, SRF invested $3.7 million in life-changing and life-saving programs. Partners and recipients of our grant funding included various Catholic dioceses in the country, the Sudan Catholic Bishops Conference, Catholic Medical Mission Board, the work of Dr. Tom Catena, Nurse Noeleen Loughran, and Solidarity in South Sudan. In 2018, Sudan Relief Fund received generous support from the Raskob Foundation for Catholic Activities, Inc., the James R. Dougherty Jr. Foundation, and the Rafael Maden and Lillian Casas Foundation.
Meet the Team
Due to the generous contributions of donors like you, Sudan Relief Fund not only continued supporting its core projects and existing commitments, but also expanded its partnerships to meet even more extraordinary needs.
Through our partners on the ground in South Sudan, SRF invested $3.7 million in life-changing and life-saving programs. Partners and recipients of our grant funding included various Catholic dioceses in the country, the Sudan Catholic Bishops Conference, Catholic Medical Mission Board, the work of Dr. Tom Catena, Nurse Noeleen Loughran, and Solidarity in South Sudan.
In 2018, Sudan Relief Fund received generous support from the Raskob Foundation for Catholic Activities, Inc., the James R. Dougherty Jr. Foundation, and the Rafael Maden and Lillian Casas Foundation.
Bishop Eduardo Kussala
Bishop of Tombura-Yambio diocese in South Sudan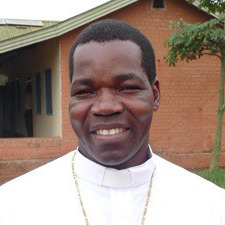 Eduardo Hiiboro Kussala is the Catholic bishop of Tombura-Yambio Diocese in South Sudan. When he was nine months old, his mother was killed when their village was attacked and destroyed. He lived with his grandmother in a refugee camp for five years, and when they returned to Sudan they lived in the Sudanese Internal Displaced Persons Camp. These early experiences shaped Bishop Kussala's passionate dedication to peace.
During the Sudanese civil war he was involved in providing pastoral services to over 42,000 Sudanese refugees in the Central African Republic, and he was head teacher of a secondary school in the refugees' camp. In 2008, Pope Benedict XVI appointed him bishop of the Diocese of Tombura-Yambio, and in 2017 Bishop Kussala was appointed the president of the Sudan Catholic Bishops' Conference. This past year, Sudan Relief Fund funded two trips for Bishop Kussala and the Catholic Bishops Conference to visit the South Sudanese refugees in Ugandan refugee camps.
Bishop Kussala holds Master's degrees in bioethics, government politics, and international relations, and a PhD in moral theology. He is the author of several articles and three books. His latest book, Reconciliation, Healing and Peace in South Sudan: Reflections on the Way Forward, focuses on the importance of learning from the mistakes of the past to prevent them in the future. He emphasizes that faith plays a fundamental role in the process of preserving the nation for future generations.
Neil Corkery
President, Board of Directors
Neil has served as the President of the Board of Directors of Sudan Relief Fund since 2013. Prior to that he served for eight years as Executive Director of SRF. During his long service to SRF, Neil has traveled frequently and extensively to South Sudan. This has provided him the opportunity to develop close working relationships with the bishops both in Sudan and South Sudan, especially Bishop Kussala and Bishop Tombe of the Diocese of El-Obeid from the Nuba mountains. Neil has also built effective partnerships with numerous groups working in the country, including Solidarity with South Sudan; Aid to the Church in Need; Catholic Medical Missionary Board; and various religious congregations working in the field, such as the Comboni Missionaries, the Jesuits, the Congregation of Christian Brothers, the Congregation of the Holy Spirit (Spiritans), and various Franciscan communities.
David Dettoni
Director of Operations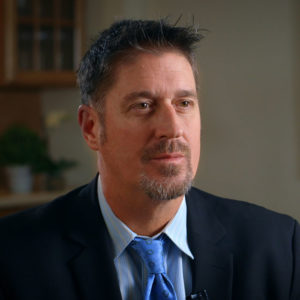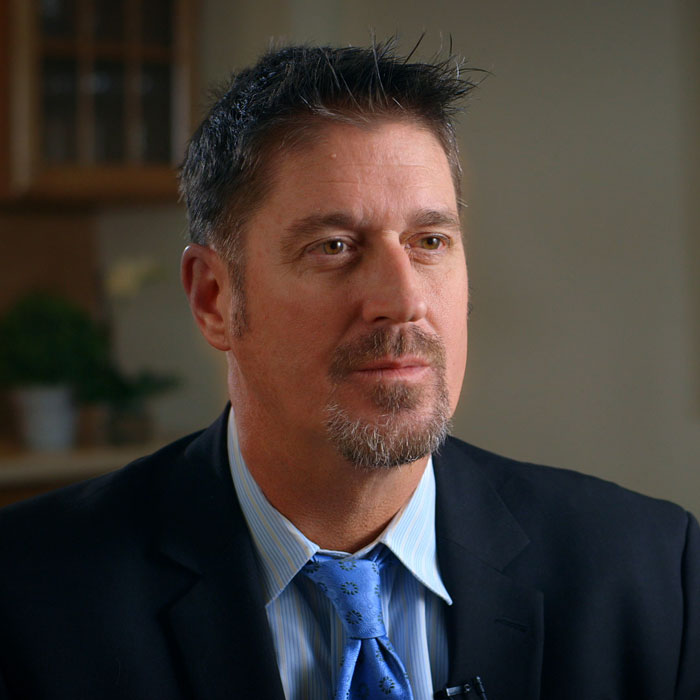 David currently serves as the Director of Operations for Sudan Relief Fund. Previously, he served as the Director of Operations and Outreach at the United States Commission on International Religious Freedom. He also has federal legislative experience and an MA in Theology. He has led many delegations to Africa and is widely respected for his on-the-ground knowledge. In 2018, David was honored by his alma mater, Westmont College, in winning their prestigious Global Service Award. Each year the Santa Barbara, California, school "honors an individual who demonstrates devoted service to God's kingdom through international, missionary or nonprofit work by living a faithful Christian life in a diverse, complex and quickly changing society as a citizen and servant of the world." This past year, David also testified before Congress on the current state of South Sudan, raising awareness and increasing knowledge about the struggles and extreme conditions facing people in South Sudan.