1. Where are you from?
I am originally from Kenya.
2. How did you end up in South Sudan?
I felt called for missionary work in 2012 and was sent to Wau, South Sudan about 3 years later by our congregation leader. I only spent a few months in Wau before returning back to Kenya, but I knew deep down in my heart I was meant to serve the suffering people of South Sudan. I kept my dream in my heart and a few months later my dream came true. I was assigned for mission in Wau, and I declared I will respond to God by serving the poor, suffering, and marginalized people.
3. What are the biggest challenges to carrying out your work?
Missionary life is not easy. It requires an open heart, and above all, listening to God's voice. Some of the biggest challenges I encounter in my work are due to the economic crisis, recurrent conflicts, and displacements.
4. Can you describe a happy moment or memory from your work?
There are many happy memories in my mission, thanks to the support and help from Sudan Relief Fund.
After the civil war erupted in Wau, I remember very well when SRF responded twice to support the displaced families who were living in the church grounds. I submitted an Emergency Relief Proposal for food and non-food items to help the suffering people and SRF granted it without any delay.
Just one year later, conflict erupted again. The church grounds became so overcrowded and full with new arrivals, many families were starving and had no access to food. But thanks to SRF, 2,500 households received emergency aid. Each time I distribute food in the camp grounds, hundreds of households thank me, but deep down in my heart I know it's the efforts and support from SRF donors.
5. What do you love the most about the people of South Sudan?
I love that once they understand that your mission is to help them grow in a positive way they respond by accepting you and supporting your team. I also admire the way they eat together by sharing their meals on one plate as a family.
6. What is the current urgent need?
Due to fighting, there are so many helpless young mothers with children who are hungry and urgently need food. Another deep crisis I am facing is in education, especially paying salaries for 120 teachers and 46 subordinate staff of the 8 schools for the diocese, which has 5,452 people. Teachers often threaten to go on strike because they don't earn enough money. The school fees are very little so all children can access education, but they are very overcrowded. It would be of great help if we can receive support to help pay the teacher's salaries, especially for children of Wau.

Families lining up for food supply in Agok Leprosy center.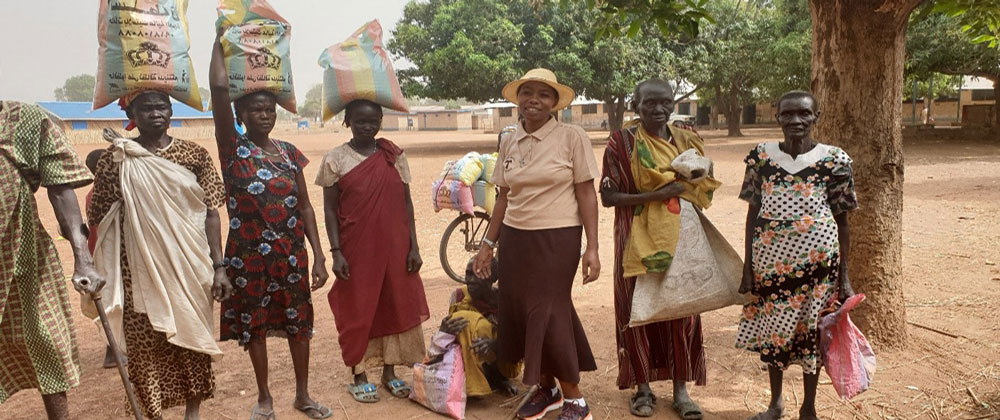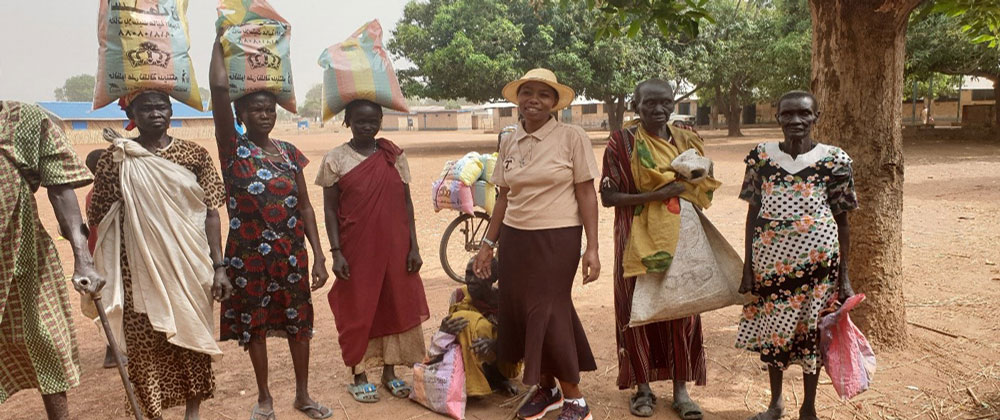 Thanks to SRF, happy mothers receive food to take back to their children.
7. How do donations help your ministry?
All the donations we receive help the poor and marginalized. We support displaced persons in the camp by giving emergency relief food and non-food items, medicines, quality education, youth ministry, and conducting some pastoral work such as retreats and workshops for growth in faith, especially on inner-healing forgiveness and reconciliation in order to promote peace. We are always grateful to God for your kind support, which help us to carry on our missionary activities with a courageous heart and maintain our identity, mission, and vision in South Sudan.