Brother Denis Reardon has been living in Yambio, South Sudan for 20 years. He is currently the Acting Director for The Congregation of Christian Brothers' Star Support Group, which provides educational seminars and treatment for adults and orphans afflicted with HIV/AIDS.
1. Where are you from originally?
I am originally from Ireland.
2. Do you remember when you felt called to mission work?
About 56 years ago.
3.  How did you end up in South Sudan?
I came to Yambio in 1997. In 1996, I was on a sabbatical after finishing my term as principal of a school in Dublin, Ireland. I went to Rome for the beatification of our founder Blessed Edmund Rice. While there, I met a Brother who had gone to Yambio and he suggested that I should go and help there. During my sabbatical, I discussed the idea with my counselor and the leadership of the province. I decided I should try it for a short period of three months. I came to Africa in September and spent over a month in Nairobi getting enculturated. I then went to Yambio until Christmas. When I was back in Ireland I told the Provincial Leader that I was happy to be in Yambio so he allowed me to go for a period of three years. I am still stationed there today.
4. What are the biggest challenges to carrying out your work?
The biggest challenges we face to carrying out our work are insecurity and inflation, poverty, poor infrastructure and medical facilities, and lack of education.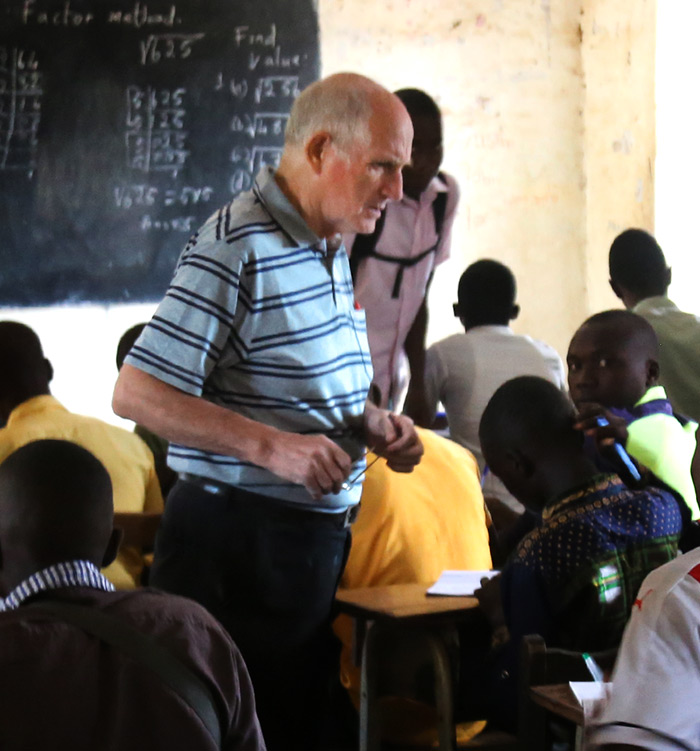 5.  Can you describe a happy moment or memory from your work?
The ability to achieve my determination to promote the dignity of the marginalized people. I think coming to Yambio has strengthened my vocation. I feel useful and enjoy my work both in the school and Star. I have many friends here and feel wanted. The Brothers' Community is united and we harmonize well. I believe that I am making a difference to the lives of the people and they are helping me to live as a Brother.
6. What are your feelings on the current turmoil in South Sudan?
I have mixed feelings of fear, insecurity, and worry.
7. What do you love the most about the people of South Sudan?
Most people of South Sudan are trustworthy, friendly, have a high sense of humor, and are hard working.
8. What is the current urgent need?
We need peace and an improvement of social amenities and infrastructures.
9. How do donations help your ministry?
Funding allows us to give support to the infected and affected people living with HIV/AIDS. With support from donors, we are able to provide free medication, shelter, and scholarships for primary and secondary schools.